Chiropractic qualification and registration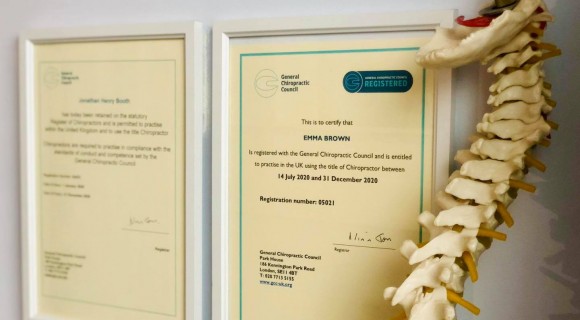 Chiropractic is a regulated profession and as such, you must be suitably qualified and registered with our governing body, the General Chiropractic Council (GCC), in order to call yourself a chiropractor.
On this page, we explain:
What qualifications a chiropractor must have
What the GCC do for you
The chiropractic professional bodies
To book an appointment with a qualified, registered chiropractor:
What qualifications must a chiropractor have?
To register with the GCC in the UK, a chiropractor must complete a Masters Degree in Chiropractic (MChiro). Some chiropractors that have been in practice since before this was required may have a relevent Bachelors Degree (BSc). The MChiro covers topics such as biology, physiology, anatomy, neuroanatomy, clinical neurology, pathophysiology and pharmacology. To gain entrance into the final year and then to complete the final year, a test of clinical competence must be passed as well as their performance as final year clinic intern assessed.
The MChiro is a minimum of 4 years at undergraduate level and to be registered with the British Chiropractic Association and Royal College of Chiropractors a further years Pre-Registration Training Scheme (PRTS) must be undertaken with mentorship from a senior chiropractor.
All chiropractors must then complete a minimum of 30 hours of Continuing Professional Development (CPD) each year to remain on the GCC register.
These are just a minimum to be a practicing chiropractor and most will go on to do more studying to ensure their patient's receive the best care. At YMYB, we have approval from the RCC to act as a PRTS mentor and help graduates transition into their clinical career.
What the GCC do for you
The GCC are a governing body which means that whilst they provide the chiropractic profession with the recognition they deserve for their work in helping people with musculoskeletal problems, they are primarily there to protect the public and ensure we do our jobs safely and effectively.
This is why we proudly display our GCC certificates each year at the clinic. An unregulated profession may still have outstanding practitioners, but regulation ensures a minimum competence and, more importantly, it gives the public someone to complain to if things go wrong. If you were to have a problem with an unregulated professional, you can seek compensation from them personally, but nobody holds them to account and nothing prevents them from continuing their work. By remaining on the GCC register, you can have much greater confidence that you can trust our skills and behaviour.
Whilst we have never had any complaints about our service and pride ourselves on our outstanding feedback, if you ever have any issues we invite you to contact us at [email protected]
The chiropractic professional bodies
There are several professional bodies in the UK that chiropractors can belong to: Royal College of Chiropractors (RCC), British Chiropractic Association (BCA), McTimmoney Chiropractic Association (MCA) and the Universal Chiropractic Association (UCA).
With the exception of the RCC, the professional bodies provide our insurance to practice. This includes our medical malpractice insurance and public liability. As we are members of the BCA, they also provide us with excellent opportunities to learn more to further help our patients. Alongside these courses and conferences, they provide a huge amount of support to everything that goes on behind the scenes when running a practice.
The RCC promote excellence in practice through funding research and providing education, disemminating current research to us to keep us at the forefront of musculoskeletal medicine.
At YMYB, we have chosen to be members of the BCA and the RCC and believe they strongly represent our values as professionals in a musculoskeletal healthcare setting and appreciate the support they provide us and the future we believe they are paving for our profession in order to help the public live happier, healthier lives.
Find a suitable appointment here: